Home »
THINKING INSIDE THE SQUARE
Our SHADECUBE™ Pergola system makes building your dream oasis a snap! The possibilities are endless,
limited only by your imagination. Simple and easy to follow instructions.
DIY or your installers create it all.
T5 3mm wall structural aluminium cube-joiners with exterior powder coat paint finish.
Robot welded joints for precision and strength.
100% manufactured in Australia.
Complies to Australian Standards:
AS1170.0 | AS1664.1 Class 10a | AS/NZ1170.1-2002 | AS/NZ1170.2-2011

SHADECUBE™ cube-joiners are designed to be used with 90 X 90 Timber, Aluminium Woodgrain
or powder coated posts and rails.
Complete with retractable and/or motorised sunshade roofs.
Sunscreen pull down blinds and aluminium side screening available
SHADECUBE™ Has endless design configurations:
Square, rectangle, "L" shape, "U" shape, handrails, screening and much more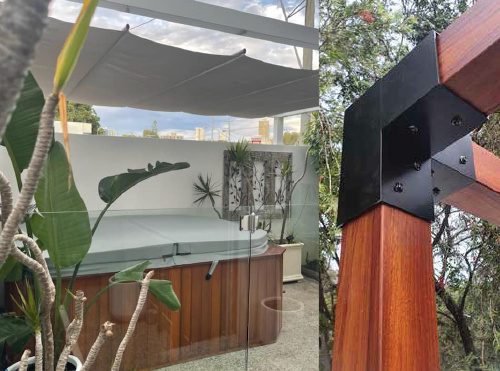 The Oasis Spas Difference

Built to last

Energy efficient

Easy to Maintain

Cheap to run
Choose the best Plunge Pool, swim spa or hydro hot tub for you
We sell our products across Australia and internationally via our various affiliated retailers, so there's always one of our affiliated pool and spa bath shops to be found near you. When you shop with us, you will find backyard plunge pools, large and small, and various sized hydrotherapy hot tubs and swim spas for sale.